Here are some shots from the latest round of photographing ingredients for La Figa: Visions of Food and Form. You would think working with inanimate food items would be easier than working with the models, but definitely not. Some of these ingredients have been really tricky to make look good – after two attempts we still have not gotten any avocado shots that we like. And photoshopping out the individual dust specks on the plexiglass is starting to get a bit old. But it is certainly worth it once it is all done – we really love some of these images.
Click on the images for larger versions…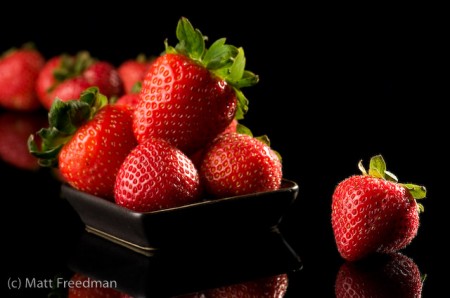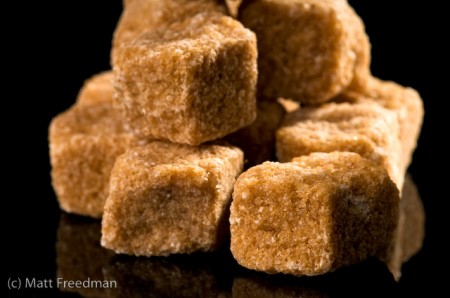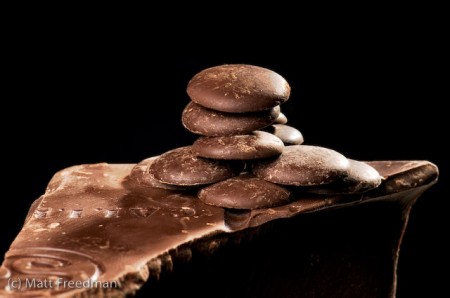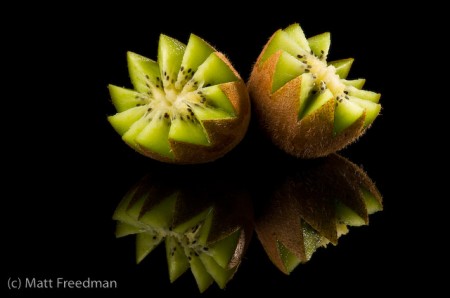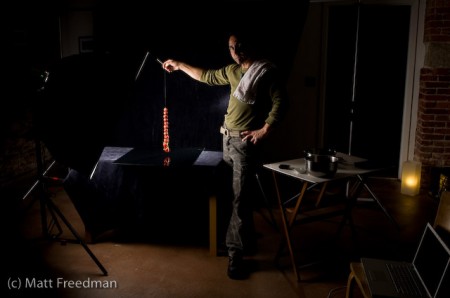 The La Figa: Visions of Food and Form book is going to involve photographs of the ingredients we use just by themselves, as well as on our models. To that end, we have been doing a lot of food photography lately. These are taken on black plexiglass, with a black velvet backdrop – the real life version of the reflection on black special effect that is starting to become quite prevalent these days, especially in Mac software. Though the reflections are real, there is a lot of Photoshop work on these – when shooting close-up like this, especially with the backlighting I was using, every last microscopic speck on the plexiglass would show up in the images. Despite our best efforts to keep the plexi clean and polished, there was always some amount of particles on it, so I had to photoshop it all out.
Click on the images for larger versions…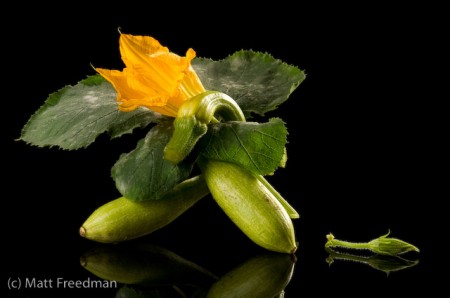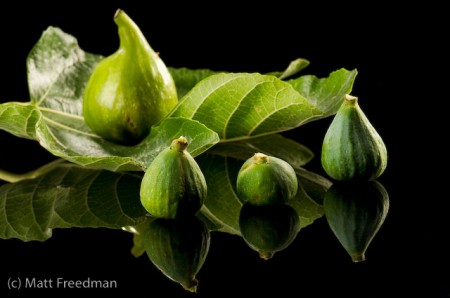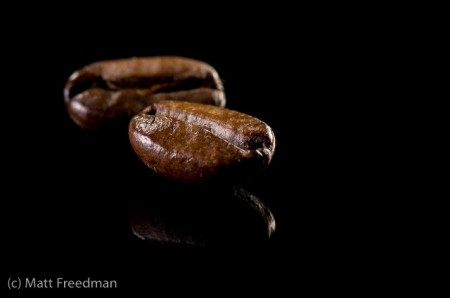 Continuing to revisit some of our favorite ingredients, we did our second strawberry shoot this weekend (18 months after our first one), with an absolutely stunning afro-korean model.
Click the thumbnails for larger images…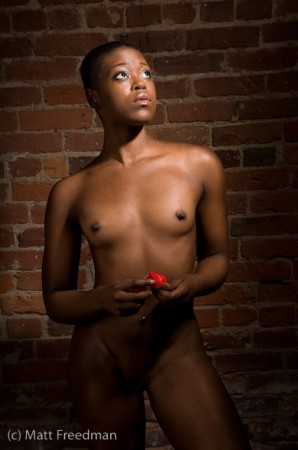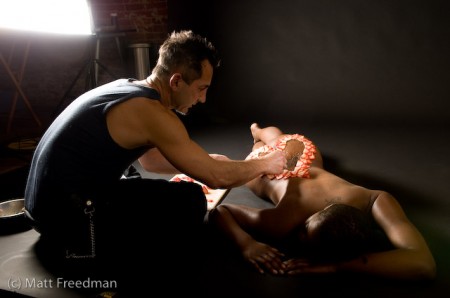 No strawberries in this shot, but it is one of my favorites from the day. It would be perfect for a cellphone advertising billboard, don't you think?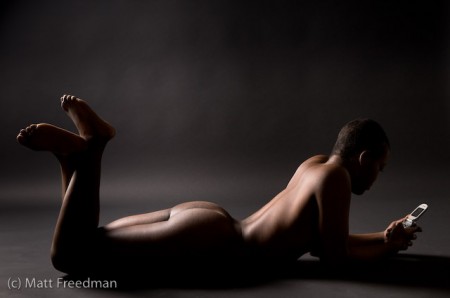 One of our very first shoots with the La Figa Project was a woman covered head to toe in cucumber slices. The book is going to be structured around the individual ingredients, so we are starting to revisit some of the ones we have already shot in order to have more variety for each one. To that end, last week we did a new shoot with sliced cucumbers, this time on a man. Here are some behind-the-scenes images from this shoot. Click the thumbnails for larger versions…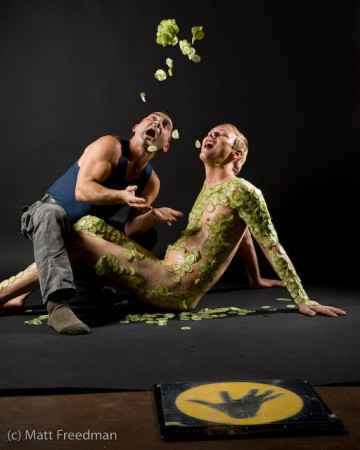 As Tiberio and I have shown our book prototype for La Figa: Visions of Food and Form, we have noticed that people really really like the two pages of "making of" photos that we have in the back. So I thought it would be fun to use this blog as a way to share some of our behind the scenes shots from the work we have been doing.
One of the funnest shoots this summer was when we went up to Dog Mountain Farm in Carnation with two beautiful sisters and a case of blueberries. There we found the two biggest horses any of us had ever seen in our lives. Luckily the sisters grew up on a farm themselves, so the model was not averse to being partially buried in compost (which actually is sterile).
Click the thumbnails for larger images…
The final images from this shoot are not currently online, so you will have to wait until our book comes out to see them.