I went to the Japanese Garden at the University of Washington Arboretum last week to shoot some macro while everything is blossoming. I believe I set a new personal record  – out of 315 frames that I shot, I ended up deleting 310, for a success rate of just 2%.
There are two reasons for this. First, I have been going to the same spot to shoot the same blossoming plants for several seasons now, so it is getting harder to come up with shots that I have not done already. But mainly, I forgot one of the key principles of outdoor macro photography – don't do it if it is at all breezy out. Shooting a flower through a macro lens in a breeze is like trying to shoot in a hurricane – the movements are vastly magnified, so it is much harder than normal to get sharp shots (which is already hard enough).
But without further ado, here are the five shots from the day that I kept….
Click for larger images.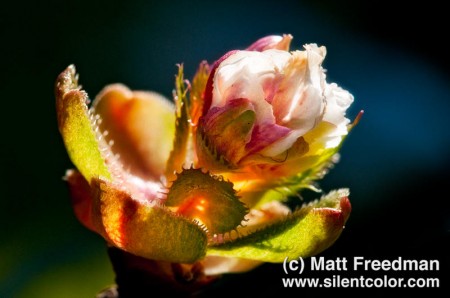 Here are some shots I did for the premiere issue of JUST CAUSE Magazine (which will be launching extremely soon – stay tuned for more on that). These wine bottles were for filler for a story about recycling.
Clear glass is tricky to shoot well – if you do not do it exactly right the glass either completely dissappears, or becomes covered with unpleasant reflections (I recommend the book "Light: Science and Magic" if you want to learn how to do it). However tinted glass is much easier. Basically you just need to back light it. I.e. have the light shine through the glass rather than bounce off the front.
Click on the images for larger versions…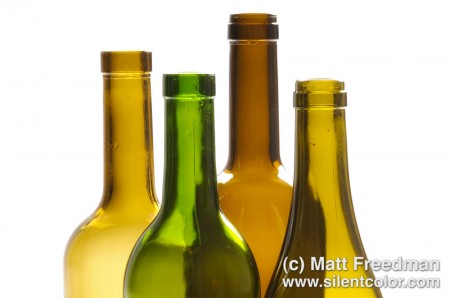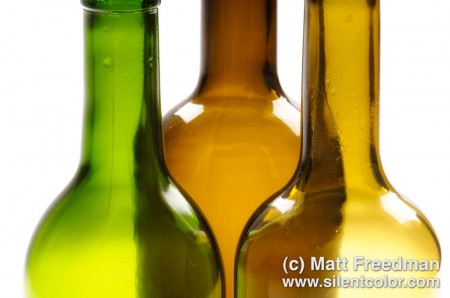 And we also did some water bottle shots for a story about green shopping…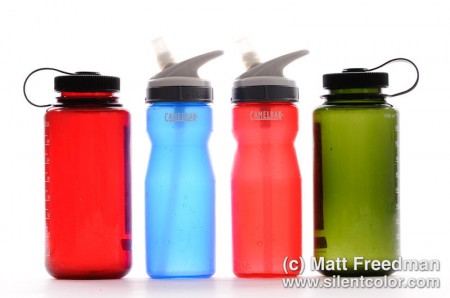 Here are some photos I shot of my trainer Adriana Medina – owner of Fuerte Fitness – before she won the Women's Fitness division at the Vancouver Classic bodybuilding competition at the end of March.
(click for larger images)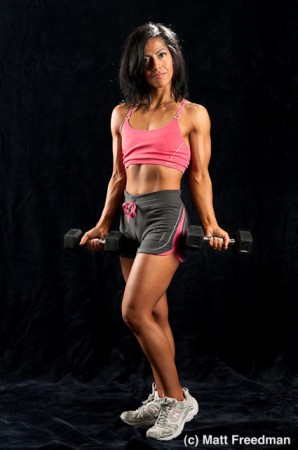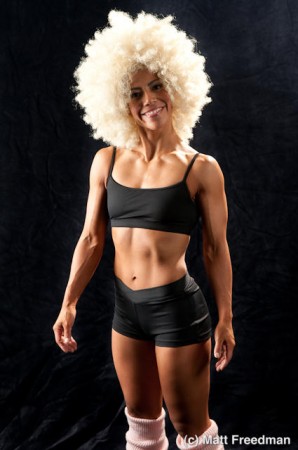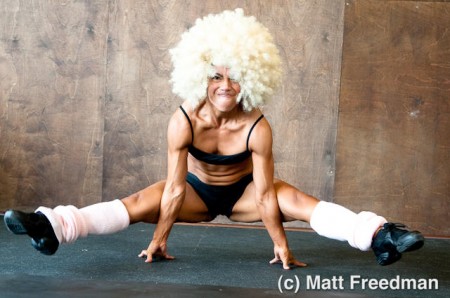 We shot these on location at Fuerte Fitness. Here is my portable studio setup. Black velvet backdrop, and three SB-800 flashes. The umbrellas are actually Photek Softliter Umbrella/Softboxes….
There was a great article about Tiberio and the La Figa project in the biggest newspaper in Tiberio's home region of Italy on Saturday. You can see the pdf of the newspaper's front page, and the story page, or read the web version,  or Google's (attempted) translation of the article into English.
I just updated www.lafigaproject.com with all the details on our special installation at the 2009 Seattle Erotic Art Festival, as well as  some new photos, so check it out.
Here is our promo postcard for the event (postcard and logo  by Giannina Silverman, of RocketRanch Design). Click the images for larger versions…