After 9 months of work shooting and editing images, writing the essays, working with Burning Man on permissions, learning to write iPhone apps, actually developing the application, and dealing with the insanity of the Apple approval process (see this example of what that is like), my first iPhone App is finally available in the iTunes store!!!
Burning Man 2008: A Photo Essay by Matt Freedman

Think of the app as a coffee table book for the iPhone. It contains over 300 extraordinary Burning Man photos, packaged in an easy-to-use full screen photo viewer:
View the whole set, or browse by categories (People, Art, Art Cars, The Man, Dust, etc.).
Mark photos as favorites, for quick retrieval.
Every image has an informative caption, which can be displayed, or left hidden.
Slideshow mode, or manual "flick" paging.
In addition to the photographs, you will find essays:
A foreword, by Marian Goodell, Burning Man's Director of Business and Communications, explaining what exactly Burning Man is.
An introduction describing my own personal 10 year journey with Burning Man, along with my views on the evolution of the event.
My 4000 word Photography at Burning Man how-to guide, which gives you detailed information on how to take better photographs at Burning Man. What gear to bring, how to carry and protect it, when and where to shoot what, and perhaps most importantly, rules and etiquette.
My own annotated Burning Man packing list. What to pack for your own visit, and why.
You can visit my site to see sample images, excerpts from the essays, and a complete version of the packing list. Or better yet, go directly to the iTunes App Store and get the app. And if you do get it, PLEASE go back to the app store and enter a numerical rating, and if possible, a brief written review. This is absolutely crucial for its success.
Please share this link with anybody and everybody you know who has an iPhone or iPod touch, and/or an interest in Burning Man (if you could post it to your Facebook newsfeed, twitter, etc. that would be great!)…
http://www.silentcolor.com/projects/burningman2008
Burning Man 2008: A Photo Essay by Matt Freedman has been reviewed and approved by the Burning Man Organization, and a portion of the proceeds from every sale goes back to the organization as a contribution to the community it supports.
Use of painted backdrops is quite standard in photography. I generally find them to be ok at best, and horrifically cheesy at worst. But it is not every day you get to use absolutely gorgeous painted backdrops that are each worth substantially more than your car.
Yesterday, Tiberio and I brought the La Figa live installation to the studio/gallery of Jose Luis Rodriguez Guerra – an  incredibly talented painter, originally from Mexico, but now living and working in Seattle's Pioneer Square. Tiberio is being featured in an upcoming documentary film, and we were there to get footage of him creating some La Figa pieces. Jose was kind enough to lend his space for the filming. More details about the movie (and of course still photos) will be coming in my next blog post, after I have had a chance to post-process the images.
While waiting for some extra video lighting to arrive, I did a spontaneous quick shoot with Reyna, one of our absolute favorite La Figa models. Regular readers (and anybody who was at the Seattle Erotic Art Festival this year) will undoubtedly recognize her. Jose generously allowed us to use his stunning canvases as the backdrop for these photographs.
Also note that Reyna is available for modeling gigs of all kinds. If you have a project that she would be suited for, and would like to get in touch with her about it, just drop me a line, and I will introduce you.
(Click for larger images)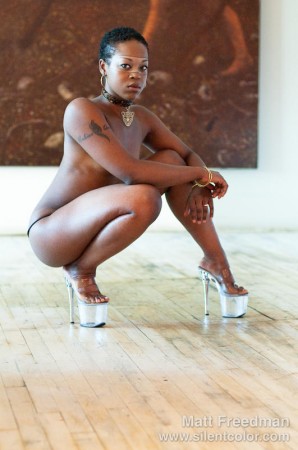 After all of these months of preparation, it is a bit hard to believe it is really over. But it is true, the 2009 Seattle Erotic Art Festival is now just a memory. The organizers did an absolutely incredible job – this was by far the best SEAF ever. The huge space at the Seattle Center really worked well, the art, performers, and DJ's were all top notch, and the midnight to 4AM after parties on Friday and Saturday rocked the house.
Our La Figa installation was also a smashing success – people really seemed to love it. We had eight large framed prints on our wall space, and Tiberio created new works of food and body art on over a dozen models over three nights.
I have posted three albums of images from the festival:
And here are a few favorites…