Use of painted backdrops is quite standard in photography. I generally find them to be ok at best, and horrifically cheesy at worst. But it is not every day you get to use absolutely gorgeous painted backdrops that are each worth substantially more than your car.
Yesterday, Tiberio and I brought the La Figa live installation to the studio/gallery of Jose Luis Rodriguez Guerra – an  incredibly talented painter, originally from Mexico, but now living and working in Seattle's Pioneer Square. Tiberio is being featured in an upcoming documentary film, and we were there to get footage of him creating some La Figa pieces. Jose was kind enough to lend his space for the filming. More details about the movie (and of course still photos) will be coming in my next blog post, after I have had a chance to post-process the images.
While waiting for some extra video lighting to arrive, I did a spontaneous quick shoot with Reyna, one of our absolute favorite La Figa models. Regular readers (and anybody who was at the Seattle Erotic Art Festival this year) will undoubtedly recognize her. Jose generously allowed us to use his stunning canvases as the backdrop for these photographs.
Also note that Reyna is available for modeling gigs of all kinds. If you have a project that she would be suited for, and would like to get in touch with her about it, just drop me a line, and I will introduce you.
(Click for larger images)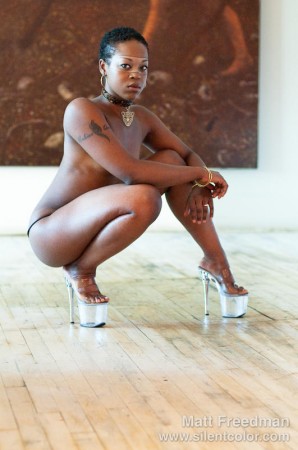 4 Responses to "Painted Backdrops"