Here are some photos from a recent shoot for a local pole-dancing instructor, Ava. Her site is not up yet, but if you are interested in private pole dancing lessons, I can put you in touch with her. This was actually the first time I have shot in the back storage area of Studio Brick (the studio/gallery space I share with three other photographers in Seattle's Pioneer Square). The storage area is pretty grungy – technically it is part of the Seattle Underground. It is actually under the street, so not even part of our building per se. It was actually an accident that we ended up back there at all – we were going to shoot in the main studio, but the ceilings were too high to set up the portable dance pole, and the storage area was the only place that worked. Definitely worked out for the best, I think these are much more interesting than they would have been on the plain black background I had been planning.
It was a pretty simple lighting setup, big softbox in the front left, and a gridspot in the right rear. And notice the big difference in lighting in the last shot. There I took the gridspot off, so it was a bare reflector, which casts a much much wider beam of light. So intead of just lighting Ava, it lit the whole room.
(click images for larger versions)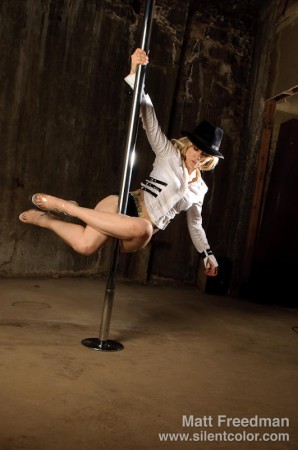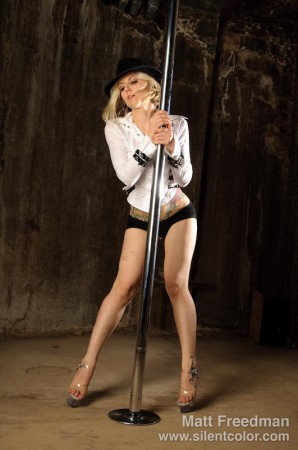 After 9 months of work shooting and editing images, writing the essays, working with Burning Man on permissions, learning to write iPhone apps, actually developing the application, and dealing with the insanity of the Apple approval process (see this example of what that is like), my first iPhone App is finally available in the iTunes store!!!
Burning Man 2008: A Photo Essay by Matt Freedman

Think of the app as a coffee table book for the iPhone. It contains over 300 extraordinary Burning Man photos, packaged in an easy-to-use full screen photo viewer:
View the whole set, or browse by categories (People, Art, Art Cars, The Man, Dust, etc.).
Mark photos as favorites, for quick retrieval.
Every image has an informative caption, which can be displayed, or left hidden.
Slideshow mode, or manual "flick" paging.
In addition to the photographs, you will find essays:
A foreword, by Marian Goodell, Burning Man's Director of Business and Communications, explaining what exactly Burning Man is.
An introduction describing my own personal 10 year journey with Burning Man, along with my views on the evolution of the event.
My 4000 word Photography at Burning Man how-to guide, which gives you detailed information on how to take better photographs at Burning Man. What gear to bring, how to carry and protect it, when and where to shoot what, and perhaps most importantly, rules and etiquette.
My own annotated Burning Man packing list. What to pack for your own visit, and why.
You can visit my site to see sample images, excerpts from the essays, and a complete version of the packing list. Or better yet, go directly to the iTunes App Store and get the app. And if you do get it, PLEASE go back to the app store and enter a numerical rating, and if possible, a brief written review. This is absolutely crucial for its success.
Please share this link with anybody and everybody you know who has an iPhone or iPod touch, and/or an interest in Burning Man (if you could post it to your Facebook newsfeed, twitter, etc. that would be great!)…
http://www.silentcolor.com/projects/burningman2008
Burning Man 2008: A Photo Essay by Matt Freedman has been reviewed and approved by the Burning Man Organization, and a portion of the proceeds from every sale goes back to the organization as a contribution to the community it supports.
I went to the Japanese Garden at the University of Washington Arboretum last week to shoot some macro while everything is blossoming. I believe I set a new personal record  – out of 315 frames that I shot, I ended up deleting 310, for a success rate of just 2%.
There are two reasons for this. First, I have been going to the same spot to shoot the same blossoming plants for several seasons now, so it is getting harder to come up with shots that I have not done already. But mainly, I forgot one of the key principles of outdoor macro photography – don't do it if it is at all breezy out. Shooting a flower through a macro lens in a breeze is like trying to shoot in a hurricane – the movements are vastly magnified, so it is much harder than normal to get sharp shots (which is already hard enough).
But without further ado, here are the five shots from the day that I kept….
Click for larger images.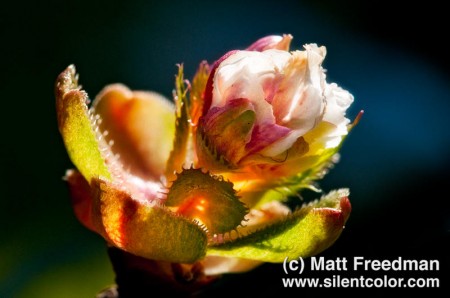 Here are some shots I did for the premiere issue of JUST CAUSE Magazine (which will be launching extremely soon – stay tuned for more on that). These wine bottles were for filler for a story about recycling.
Clear glass is tricky to shoot well – if you do not do it exactly right the glass either completely dissappears, or becomes covered with unpleasant reflections (I recommend the book "Light: Science and Magic" if you want to learn how to do it). However tinted glass is much easier. Basically you just need to back light it. I.e. have the light shine through the glass rather than bounce off the front.
Click on the images for larger versions…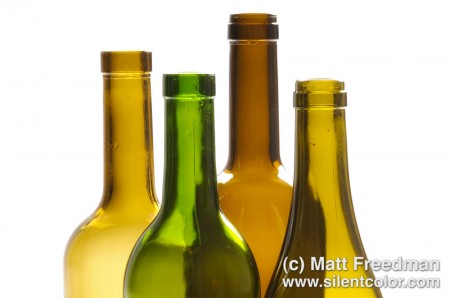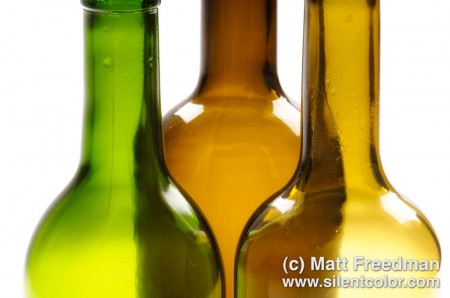 And we also did some water bottle shots for a story about green shopping…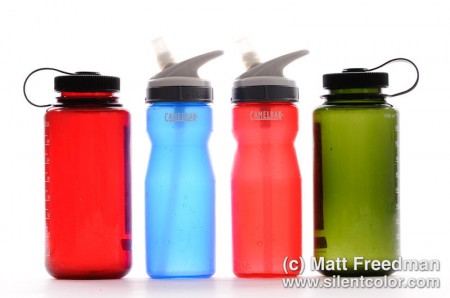 Here are some photos I shot of my trainer Adriana Medina – owner of Fuerte Fitness – before she won the Women's Fitness division at the Vancouver Classic bodybuilding competition at the end of March.
(click for larger images)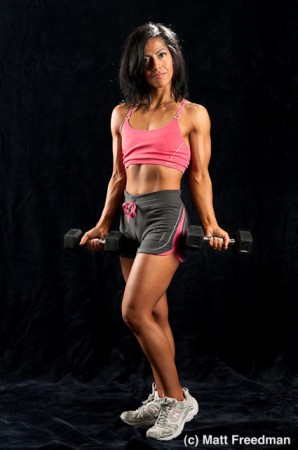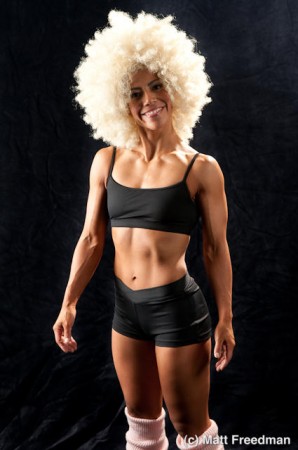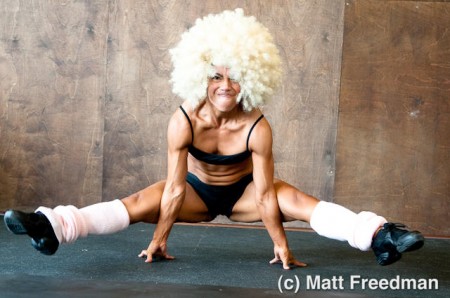 We shot these on location at Fuerte Fitness. Here is my portable studio setup. Black velvet backdrop, and three SB-800 flashes. The umbrellas are actually Photek Softliter Umbrella/Softboxes….